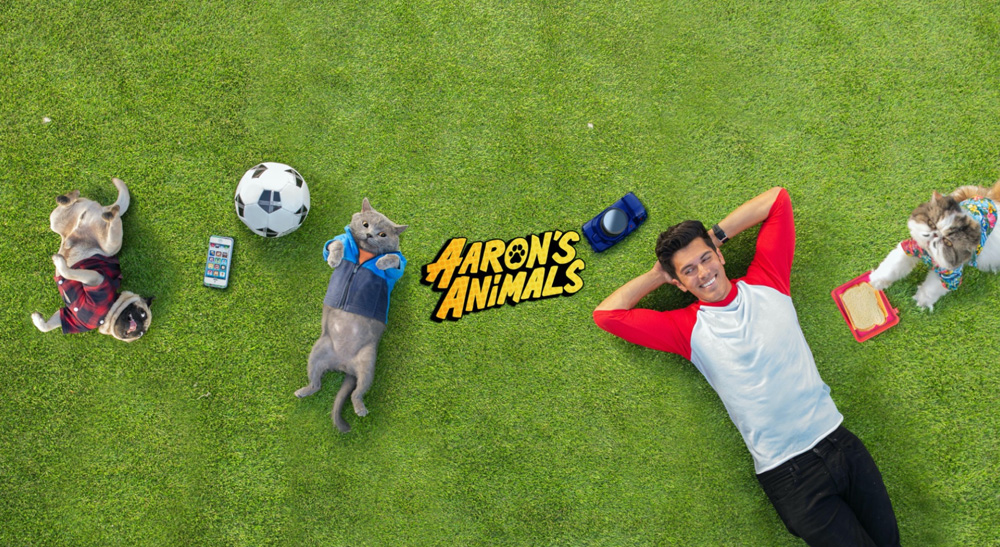 With over 7.5 million subscribers and 2.4 billion views, Aaron's Animals is one of the most successful YouTube producers on the service to date. The channel documents the life of a cat named Prince Michael, whom Aaron adopted in New York City. Their first viral hit happened when Aaron was pet sitting his friend's rabbit and posted a video showing Michael getting jealous.
The YouTube page now features over 40 videos creatively depicting the adventures of Prince Michael and Aaron's other animals. Videos are shot using the Blackmagic Pocket Cinema Camera 4K digital film camera, and color graded using DaVinci Resolve Studio editing, grading, VFX and audio post production software.
Aaron Benitez, the man behind Aaron's Animals, switched to Blackmagic Design cameras in 2018 with the hope of finding a solution that would provide a more robust image for challenging shooting conditions. "We are often shooting outdoors where weather is changing fast," said Benitez. "Since we don't have a dedicated cinematographer and our work requires so many plates to build shots, it's super helpful to have the resolution of the Pocket Cinema Camera 4K and versatility of Blackmagic RAW in post."
For the channel, Benitez relies heavily on very specific plate photography to achieve the unique and invisible effects within each video. The high resolution and dynamic range of the Pocket Cinema Camera 4K allow his team to tweak layers even if they aren't shot under the best conditions. Shooting live animals for specific expressions is challenging under the best conditions, but Aaron feels the features of the Blackmagic Design cameras help make the process more manageable.
"I love that the cameras can capture in a variety of frame rates," added Benitez. "I can get true slow motion shots if needed but also shoot in 28 to 32 frames per second so that I can capture the animal's reactions in a slightly slower speed. It's often difficult to capture the reactions that we need in real time, and the variable speed with a simple push of a button can often make the difference in getting the shot."
Benitez made the transition to DaVinci Resolve Studio for color grading after fellow YouTube influencer SoKrispyMedia suggested it. "Sam (Wickert) was very convincing, and having seen the work they'd done with it, I was happy to try it out. Now we rely on it for all of our finishing." Colorist Avery Peck is tasked with grading each project, which often includes added work beyond the Color page.
"I generally live on the color page," said Peck. "But I'll occasionally switch over to Fusion for more advanced, visual effects related work like sky replacements and shot cleanup." With the complexities of animal oriented videos, which rely on quick shooting and many passes, Peck also appreciates the image quality the Blackmagic cameras provide.
"I think Blackmagic cameras in general have a pleasing color science that gives me a strong starting point out of the box, especially in skin tones," continued Peck. "I'm also a big fan of the Blackmagic RAW format, especially for fast paced indie style shoots where the burden of large files can be significant. I find Blackmagic RAW gives me all the information and flexibility I need in the grade."
Press Photography
Product photos of Blackmagic Pocket Cinema Camera 4K, DaVinci Resolve Studio and all other Blackmagic Design products are available at www.blackmagicdesign.com/media/images
About Blackmagic Design
Blackmagic Design creates the world's highest quality video editing products, digital film cameras, color correctors, video converters, video monitoring, routers, live production switchers, disk recorders, waveform monitors and real time film scanners for the feature film, post production and television broadcast industries. Blackmagic Design's DeckLink capture cards launched a revolution in quality and affordability in post production, while the company's Emmy™ award winning DaVinci color correction products have dominated the television and film industry since 1984. Blackmagic Design continues ground breaking innovations including 6G-SDI and 12G-SDI products and stereoscopic 3D and Ultra HD workflows. Founded by world leading post production editors and engineers, Blackmagic Design has offices in the USA, UK, Japan, Singapore and Australia. For more information, please go to www.blackmagicdesign.com
Latest posts by Grithaus Agency
(see all)