Single and 2×2 Versions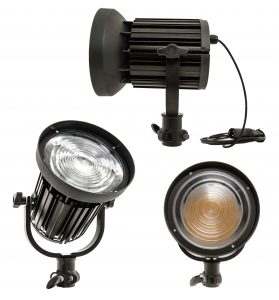 BB&S Lighting of Denmark announces the new Compact Beamlight BiColor which offers a range of 2700°-5700°K. With 98 TLCI, CBLs are ideal for professional studio, stage, architectural lighting and broadcast news studios that require a hard shadow beam. A Single fixture produces up to 2700-lumens and the 2×2, with its combined beam, provides up to 11,000-lumens. The beams fade from 100% at center to 50% at the edges, cutting blinding glare so that mixing and overlapping other lights is smooth and easy. These LED fixtures have been installed for uses up to 90-ft/27-meter distances.
With a low 40W power draw, 5.5" footprint and a 10-degree beam angle, a Single BiColor is appropriately suited for overhead grids, as well as walls, floors and stands. Surprisingly compact, it weighs just 1.5 kg/3.3-lbs and measures 165mm long and 140mm in diameter.
CBL BiColors come with a 4-pin XLR, 2-meter cable, TVMP and adjustable yoke. Optional accessories include a magnetic filter frame range of prismatic diffusers, magnetic barndoor that rotates 360° and a magnetic top hat/snoot.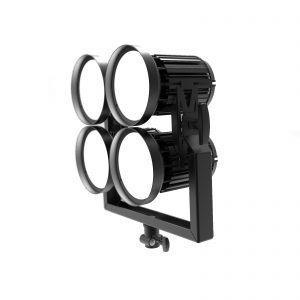 The new CBL BiColor 2×2 draws up to 160W but can output a whopping 11,000-lumens. It measures 165mm x 280mm x 280mm and weighs 18 lb/8 kg including yoke.
Each Compact Beamlight incorporates a proprietary 126mm diameter collimator lens that converts up to 90% of the LED light output, resulting in a high intensity narrow beam with practically no spill light. Even with their strong illumination they run silent, thanks to a highly effective heat dissipating rear section that eliminates the need for a noisy cooling fan.
Compact Beamlights can be operated and dimmed in several ways. Singles work with the optional BB&S 4-Way Controller or Dual Channel Driver/Dimmer. The 4-Way Controller runs two Single BiColor fixtures and is ready for optional wireless control with built-in DMX/RDM 512 in/out powered via a 48V power supply. Utilizing the 4-Channel Control, the fixtures are fully dimmable (100% to zero) without color shift or flicker. Single BiColors may also be operated via the optional BB&S 40W Dual Channel Manual Driver/Dimmer to dial in CCT and level. It includes a 4-pin XLR connector for use with either an optional PSU or battery.
The 2×2 BiColor can be operated and dimmed with the optional new 8-Way Controller in a Peli case that offers 8-channels and is ready for wireless via the internal USB connector. It comes with a PowerCon True 1 locking AC 2-meter cable plus 48V DC PSU. For battery operation several third-party battery packs are available that can deliver the 160W minimum required.
For more information about BB&S Lighting in North and South America visit www.bbslighting.com or in Europe, Africa and Asia visit: www.brothers-sons.dk
###
Information prepared by Lewis Communications: [email protected]
For additional photos and more news visit www.aboutthegear.com
Latest posts by Vika Safrigina
(see all)