DoPchoice
www.dopchoice.com
Effective: March 31, 2021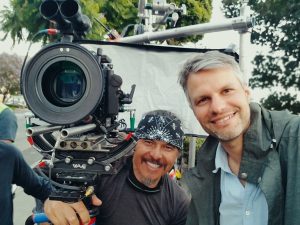 Markus Förderer, ASC, BVK doesn't take chances on set. He considers shooting days precious so he rigorously tests new gear, new moves and new ideas long before he gets to set. "Shooting days are there to shoot" he says, "not to set up and light," so he comes to the set prepared.
The highly visually driven film, Bliss was no exception. A science fiction drama, it stars Owen Wilson as Greg and Salma Hayek as Isabel. The story is set around a man whose life is in disarray when he meets a beautiful woman who tries to convince him he is living in a simulation.
Tasked with creating two different worlds, Förderer once again did his homework upfront to create the contrasting visuals that would intercut as the script directed. On one hand there's the ugly world filled with negativity that Förderer paints with handheld camerawork, anamorphic lenses and a diffused light, de-saturated color palette.
On the other hand there's the "Bliss world" with clear skies and saturated colors shot with spherical lenses and warm color temperatures. It was punctuated by a-one-of-a-kind filter he invented, to create the "too good to be true world."
Lighting was crucial to the "looks" he created. His challenge was to make the two worlds look separate but not different. His solution was to use the same trusted lighting tools set at different color temperatures plus he added saturated blue colored LED lights to the "Bliss world".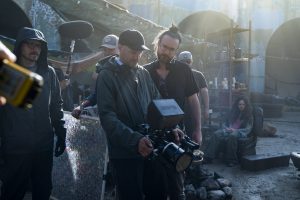 When it comes to gear, Förderer goes with a less-is-more philosophy. He likes to move fast and keep a clean set, instead of what he calls an entire village of equipment. "Less equipment allows for greater flexibility. Just move a few lights and you are ready to go for the next shot," he says.
He mainly lit with a combination of Skypanel S360s and S60s, DMG Mini Mix, plus battery-powered Astera tubes. He relied heavily on DoPchoice Snapbags® and Snapgrids® to soften and direct the lights.
To lens the ugly "simulated" world where Wilson's character lives with his family, they shot on location in both Croatia and the downtown streets of Los Angeles. For his diffused lighting look in scenes like Isabel's homeless encampment, Förderer paired Skypanels at a color temperature of 9000° Kelvin with 5' diameter Octa 5 and 7' diameter Octa 7 Snapbags. These snap-up softboxes suit the efficient cinematographer's style. "Octas take less time to set up and fit right on the lights so the diffusion panel is part of the fixture. You need less stands on set which means less marks on the ground, and a smaller gear footprint," he notes. He often adds a one-piece Snapgrid right on to the front of the Octas to control light direction.
For the abundant night scenes, Förderer also used Astera tubes combined with a uniquely designed Snapgrid. He says "It was especially useful for a sequence when they play with candles in Isabel's tarp home, to give accent light without illuminating the background. Snapgrid for Astera is one device that does it all. You don't even need to add a stand. It has its own kickstand that keeps it stable so you can place it in corner and get the fill light."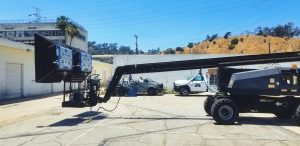 Förderer kept his lighting kit relatively small except for one scene where Greg crushes a car. The night scene called for 2 Condors equipped with S360 Skypanels. Ever aware of the time constraints on moving the Condor, Förderer opted for the most versatile solution to diffuse the lights. They mounted 2 fixtures side by side paired with DoPchoice's customized Skypanel 6 x 6 Snapbag. "The Snapbag fits right on the light. It looks like its one big fixture so I got the feel of a 6×12 but with more flexibility. Traditionally we would have rigged a diffusion frame in front of the lights, but that would have locked us in one position."
His most challenging setup was a 4-minute walk-and-talk Steadicam take on location by the LA River at magic hour. "To create that shot we really had to prepare well," he recalls. Flavored with freight trains, incessant freeway buzz, and street grit, the crew eked every moment of light from the fading sun as they followed the actor running along the mile-long course. "I was sitting in a van watching the Steadicam operator riding on the grip vehicle," says Förderer. "I needed a reliable eye light throughout the shot as the actor approached the rehab center so we had a DMG Mini Mix and a Titan Tube with a Snapbag rigged close to camera on a golf cart. To accommodate the changing light levels during the take we wirelessly controlled the intensity of the Mini Mix and I adjusted the iris. We got it in 2 takes." No surprise for the production team who are used to Förderer making his days.
Written and directed by Mike Cahill, the feature film, Bliss is currently streaming on Amazon Prime Video. Information on DoPchoice can be found at www.dopchoice.com
###
Latest posts by Vika Safrigina
(see all)