Digital Cinema Society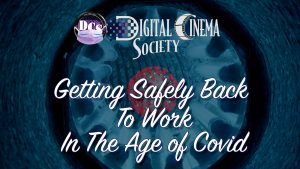 www.digitalcinemasociety.org
Effective: Immediately
The Digital Cinema Society announces the completion of a new mini-doc, Getting Safely Back to Work in the Age of Covid. The program is dedicated to the memory of our friend and longtime DCS member, Allen Daviau, ASC, an early victim of the disease.
Because the COVID-19 pandemic has affected most every aspect of the production industry, James Mathers, cinematographer and founder of the Digital Cinema Society made it his goal to document solutions to help create safer conditions on sets. This educational documentary explores tools and techniques the motion picture industry can use to help work safely despite the current pandemic.
Director/editor/host Mathers adhered to strict shooting protocols during the production. According to the DCS founder, "COVID-19 has cost lives, livelihoods, and brought the media and entertainment industry to an abrupt standstill. Although there are some positive developments on the horizon in terms of vaccinations and therapies, there are still major uncertainties ahead, and we are a long way from being out of the pandemic woods."
Filmmakers, business leaders, and technologists were interviewed regarding their experiences and methods of adapting and integrating technology geared at safer working on set. Participants include: Covid survivor and Steadicam Operator Jeff Muhlstock, Covid Compliance Officer Chris Salas, Michael George, Chief Operations Officer— Panavision Inc, Michael Cioni, Frame.io Global SVP of Innovation and Audio Supervisor Nico Ruderman. Also interviewed were Panasonic's Rob Brambila, Panavision's Aaron Kroger, Director of Product Strategy, and Richard Amadril, President of Luminys.
You are invited to see this mini-doc at: bit.ly/DCSdocumentary
The Digital Cinema Society (DCS) is a nonprofit educational cooperative dedicated to the industry's informed integration of new technology. To become a member or find out more visit www.digitalcinemasociety.org
###
For additional photos and other news, please go to www.aboutthegear.com
Information Prepared by Lewis Communications: [email protected]
Latest posts by Vika Safrigina
(see all)