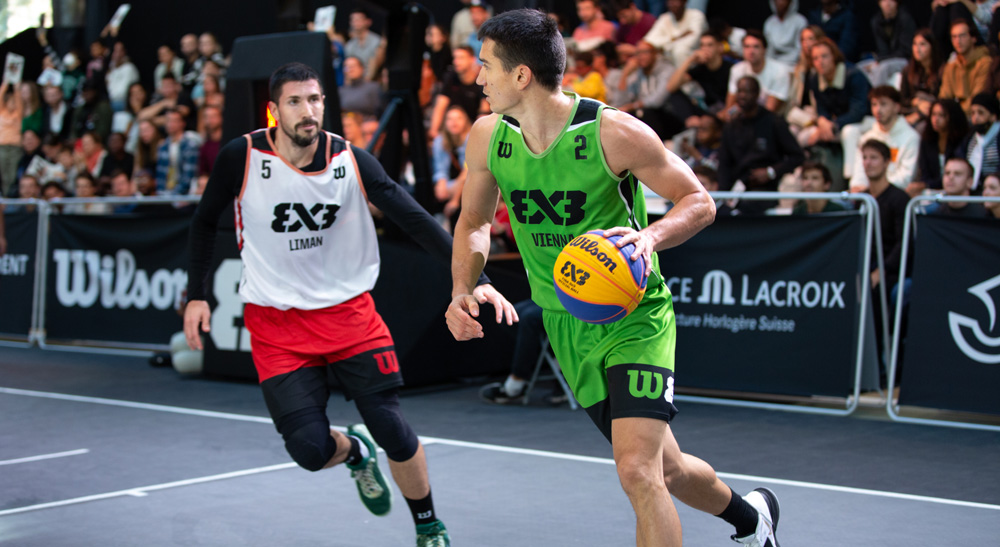 Fremont, CA, USA – Friday, December 2, 2022 – Blackmagic Design today announced that the FIBA 3×3 World Tour 2022 Paris Masters has relied on a multicamera OB (outside broadcast) solution featuring the ATEM Constellation 8K live production switcher.
The 2022 tournament marks the 11th edition of the 3×3 masters' format and incorporates 12 events worldwide. Toulouse based Stop and Go Production, which specializes in sports production, supplied OB support on the maiden edition of the Paris Masters event at the iconic Carreau du Temple.
Imagined entirely in house and built in only six months, the OB truck can accommodate up to four technicians and features a hybrid 4K IP and SDI based production workflow.
"We wanted a scalable next generation workflow that would allow us to grow into new markets such as festivals, concerts and theatre productions," begins Olivier Gouze of Stop and Go Production.
Likewise, more and more federations and leagues now operate their own platforms, according to Gouze. "Many sports don't have television rights and instead choose to broadcast via their owned media platforms for a subscription fee, and they are turning to companies likes us for our expertise and help."
Central to the OBs gallery control workflow is an ATEM Constellation 8K with ATEM 2 M/E Advanced Panel for hardware control. "We have been longtime fans of the ATEM switchers and decided early on in the design phase that the Constellation 8K would cover the vast majority of our needs," explained Gouze. "Nothing else in the market comes close to offering this sort of value for money."
He adds, "The user interface and accompanying control hardware make using and operating the production switcher incredibly straightforward. Not only that, but the hardware is also easy to learn and simplifies the training of our crews."
The FIBA 3×3 World Tour event in Paris was the first time Stop and Go had deployed the truck for a sports production on home soil.
"We had a nine camera setup ensuring even the smallest of movements could be captured, and we relied extensively on slow motion replays using an EVS server, both in the program mix and around the venue itself," he said.
An essential part of the FIBA brief was the ability to produce slow motion reels for the slam dunk contests. "The public and the jury rely heavily on the replay sequences to get an idea of the quality of these ultra spectacular sequences," notes Gouze.
The live program mix from the switcher ran into an encoder and was streamed to FIBA's YouTube Channel in 1080p and watched by thousands. "We could also use additional SDI outputs on the ATEM to feed big screens in the venue, whether that was a dedicated camera angle or a slow motion replay," revealed Gouze.
"We are thrilled to have Blackmagic Design in our OB workflows as we continue to meet the needs and expectations of our clients," concluded Gouze. "FIBA has been delighted with the results of this year's collaboration, and we will be returning next year to film this stage again."
Press Photograph
Product photos for the ATEM Constellation 8K, ATEM 2 M/E Advanced Panel and all other Blackmagic Design products are available at www.blackmagicdesign.com/media/images
About Blackmagic Design
Blackmagic Design creates the world's highest quality video editing products, digital film cameras, color correctors, video converters, video monitoring, routers, live production switchers, disk recorders, waveform monitors and real time film scanners for the feature film, post production and television broadcast industries. Blackmagic Design's DeckLink capture cards launched a revolution in quality and affordability in post production, while the company's Emmy™ award winning DaVinci color correction products have dominated the television and film industry since 1984. Blackmagic Design continues ground breaking innovations including 6G-SDI and 12G-SDI products and stereoscopic 3D and Ultra HD workflows. Founded by world leading post production editors and engineers, Blackmagic Design has offices in the USA, UK, Japan, Singapore and Australia. For more information, please go to www.blackmagicdesign.com
Latest posts by Grithaus Agency
(see all)