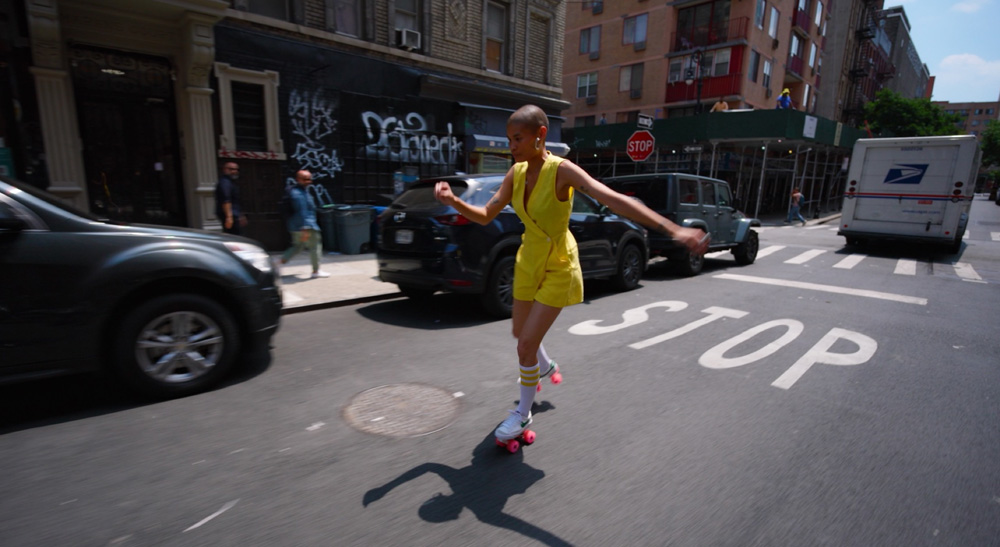 Fremont, CA, USA – Wednesday, October 12, 2022 – Blackmagic Design today announced that fashion brand Ilana Kohn used Blackmagic Cloud for post production on its new campaign videos. The videos, created to launch a new line and celebrate the opening of a new retail space in Manhattan, were edited and graded with DaVinci Resolve Studio editing, color grading, visual effects (VFX) and audio post production software, with the entire process being completed in less than 48 hours.
Ilana Kohn is a line of clothing and textiles designed and produced in New York City, with its main retail shop located in Manhattan's "Dimes Square" district. To celebrate the opening of the new shop, the company hired filmmaker Charles Haine to capture the colorful, fun and fast moving vibe and feeling of "Dimes Square" in the summertime.
"They needed the project to be turned around in time to promote the store opening. And they wanted it to be 'cool.' We cast Tia to model the clothes, who luckily is an amazing roller skater, and we agreed on the idea of capturing the vibe by roller skating around the lower east side," explained Haine.
"In my experience, fashion folks talk in a different language than other types of clients. I always try to find ways of pulling out their ideas and desires in their language. On this one, it was really a conversation about feeling, listening to music tracks together and then trying a bunch of different looks," he continued.
Using DaVinci Resolve Studio with Blackmagic Cloud allowed Haine to use a remotely located editor who had experience with fashion projects, while at the same time making the whole process efficient. Just as important, he was able to involve the client throughout the process.
Haine continued: "It's always about the clothes, and fashion clients always see their clothes in more detail than you can. The key is getting them as involved as possible, and showing them the most cuts you can so that they get the chance to notice a shot with a weird hemline or a strange fold that you don't notice as early as possible. And every single cut that we went through had a revision on color to make sure the clothes and the 'feeling' looked right, which made the client very happy."
With Blackmagic Cloud, Haine appreciated that he was able to more fluidly work with a remote team.
"The speed here was key. We wanted to be able to explore looks on the footage with every pass on the edit since we wouldn't have time to explore color after the edit was locked. My expectations were met and exceeded. It was so easy, between using the chat features, texting and email and Dropbox, it really felt like remote working was finally cracked in a way I've been waiting for," Haine explained. "For every cut that was done, the editor would just text me 'ready to go' and I would take a look, make a color grade and we'd send it on to the client for comments together."
Once shot, dailies were rendered from DaVinci Resolve Studio into a shared folder on Dropbox. The files were then synced with the editor and Haine's home system. By working in Blackmagic Cloud, the editor would make a cut using 720p ProRes proxies, then Haine would do a color pass, followed by the client giving suggestions and approvals for both color and edit at the same time.
Haine continued: "I was really excited about not only being able to use a remote editor I trusted on Blackmagic Cloud, but also my own workflow across my home and office. I had full res 6K files at the office, but I didn't want to drag that hard drive around. With Blackmagic Cloud I could easily have the Dropbox proxy files on my laptop at home to review edits and make tweaks and then when I was back in the office I could finish up and reconnect painlessly to the full res files."
"The turnaround time on this project would've been a nightmare with the old system. Emailing .drp files back and forth and worrying about version control was always such a headache. Blackmagic Cloud letting me have everything in Dropbox and then just logging in and out was so slick it feels like editing should always have been like this," he concluded.
Press Photography
Product photos of DaVinci Resolve Studio and all other Blackmagic Design products are available at www.blackmagicdesign.com/media/images
About Blackmagic Design
Blackmagic Design creates the world's highest quality video editing products, digital film cameras, color correctors, video converters, video monitoring, routers, live production switchers, disk recorders, waveform monitors and real time film scanners for the feature film, post production and television broadcast industries. Blackmagic Design's DeckLink capture cards launched a revolution in quality and affordability in post production, while the company's Emmy™ award winning DaVinci color correction products have dominated the television and film industry since 1984. Blackmagic Design continues ground breaking innovations including 6G-SDI and 12G-SDI products and stereoscopic 3D and Ultra HD workflows. Founded by world leading post production editors and engineers, Blackmagic Design has offices in the USA, UK, Japan, Singapore and Australia. For more information, please go to www.blackmagicdesign.com
Latest posts by Grithaus Agency
(see all)