The InfoComm 2014 convention has kicked off in beautiful Las Vagas, Nevada, and the opening day was fantastic! Broadcast Beat is at the show and we are checking out the scene! Here's a look at some of the exciting exhibits and products:
Audio Technica USA announced the ATND971 Network Microphone (Cardioid Condenser Boundary Microphone): A simple Ethernet connection allowing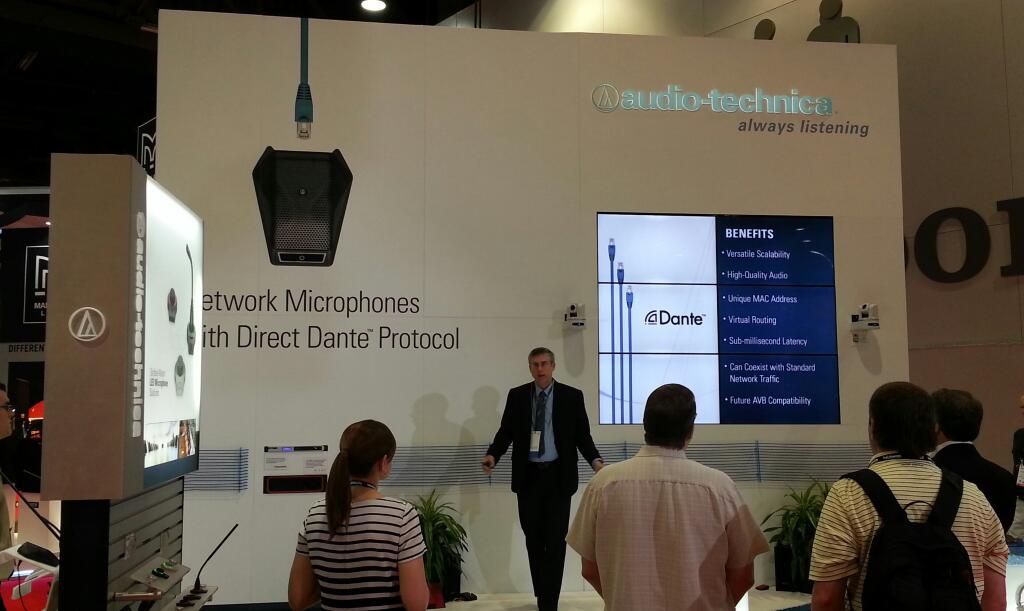 communication across an existing network of Dante-enabled devices and, with the microphone's programmable user switch, control any of those devices at the push of a button. A perfect fit for boardrooms and other meeting spaces, Audio-Technica's ATND971 boundary mic features simple, inexpensive Ethernet connectivity, outstanding sound quality, a Red/Green LED status indicator and an integrated user switch to control anything from triggering a video camera pan/tilt to a room's lighting preset and much more. And since Dante can support up to 512 bidirectional audio channels, this microphone offers an easily scalable solution. The ATND971 is powered by network PoE. CHECKOUT Audio Technica USA at booth (C10520)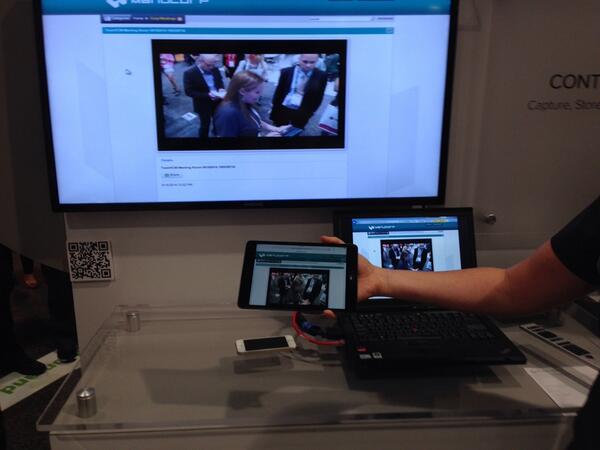 Polycom (The global leader in collaboration solutions) launched the bundled version of VCM (Video Content Managment) Smart Start Management solution providing for the user to make top-down communications clear, consistent and widely accessible-regardless of distance or time zones. Create a more connected and informed organization from the bottom-up, by enabling social business. Polycom's Video Content Management Solutions help organizations launch and expand online communications, training, and educational initiatives. Also, make sure to hear from Polycom Vice President, John Antanaitis, get hands-on training with our own Tony Harvey and Jim Smith, and stop by the Polycom booth (N1339)
Digital Projection International showcased the new 12K lumen laser hybrid projector (laser illumination via phosphor wheel). The launch of the HIGHLite LASER WUXGA 3D, the world's first production, high-brightness laser projector. Remarkably bright, the HIGHlite Laser delivers a stunning 10,000 lumens from a stable solid-state light source, capable of producing over 20,000 hours of illumination. Developed with a 'Set it and Forget it' directive, the HIGHlite 
LASER delivers an impactful imaging solution that installers and system integrators can deploy with minimal maintenance throughout the lifetime of the display. Equally compelling is the lack of lamp replacements due to the solid state illumination system. By bypassing regular lamp replacement cycles, almost all costs related to the HIGHlite Laser are incurred at time of purchase. This key characteristic allows the HIGHlite Laser to have a much lower cost of ownership over the lifespan of the display. Venues looking to produce a compelling visual experience will realize true cost-saving benefits through the HIGHlite Laser's advanced illumination technology. Visit booth N647 for the impressive demonstration!
Stay tuned for more InfoComm 2014 convention highlights here at Broadcast Beat! For all of your up to the minute information on breakthrough technologies, be sure to stay "in the know" with Broadcast Beat Magazine!
AlertMe
Matthew has worked in both the private sector and in higher education for over twenty years. He specializes in the areas of digital media project management, broadcast engineering and media production. Matthew has extensive knowledge in digital post production, digital asset management, digital cinema production, and broadcast facility integration. Mr. Harchick actively researches state of the art broadcast, cutting edge digital cinema and smart audio visual technologies for client implementation and is available for your consultation needs.

Matt and his family currently reside in the Washington, D.C metro area.
Latest posts by Matt Harchick (see all)