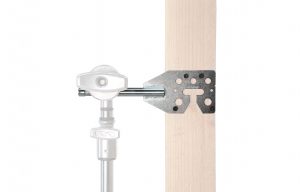 Simple, Strong & Professional Solution for Industry Standard 5/8" Pin
MSE does it again with another smart mounting solution to add to their Gobo Plate™ line—this time using Matthews must-have grip essential, the 5/8" Baby Pin. Like their other Gobo Plates, the Gobo Plate Baby Pin bit.ly/Gobo-Plate-Baby-Pin is a US-made, rock-solid machined hardware solution. Designed to save time and energy when mounting 2.5" grip heads to an endless variety of equipment and set architecture, this professional answer has an MSRP under $40.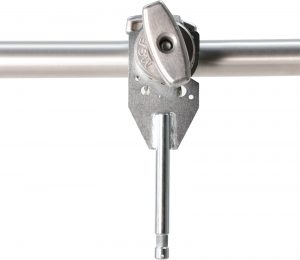 Gobo Plate Baby Pin includes a flat 3" wide by 1/8" thick steel "plate" portion with a clear zinc coating. A variety of machined cut outs, designed for versatile functionality, include: a T-slot with V centering, as well as two ½" diameter, three 3/8" diameter, and six ¼" diameter spaced circular holes to easily accept attachment hardware or rod pass through. Welded to the rugged plate is the Matthews knurled 5/8" Baby Pin with metallic coating, ready to deliver solid support to any of the countless accessories that attach to this industry standard gear.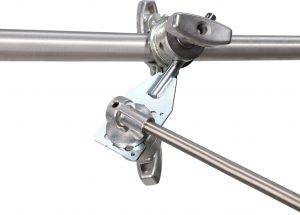 With a low-profile design, the Gobo Plate Baby Pin (30026) weighs 13.1 ounces and is now shipping. It is available through the company's worldwide dealer network. For more information visit: www.msegrip.com
********
About Matthews Studio Equipment

MSE now has 50 years of success in the manufacturing industry—specializing in hardware, camera and lighting support. Its equipment is being used on entertainment productions and in major studios in over 90 countries around the world. The company has been honored with two Presidential "E" Award for outstanding contributions to growing U.S. exports, strengthening the economy and creating American jobs. Matthews has also been honored by the Academy of Motion Picture Arts and Sciences and the Academy of Television Arts and Sciences for Technical Achievement. MSE offices are located at their state-of-the-art manufacturing facility at 4520 West Valerio Street, Burbank, CA 91505. www.msegrip.com
********
Information Prepared by Lewis Communications: [email protected]
Latest posts by Vika Safrigina
(see all)