New Matthews Docking System
Watch the Video bit.ly/MSE-DockingSystem
Burbank, California: Matthews presents the latest in a long line of problem solving equipment stands. In response to the increased use of gimbals on a multitude of shoots, Matthews created the new Docking System to keep these essential tools safely out of the way yet ready for action between shots. Matthews' solution combines the dependable Slider Stand and rugged Dutti Dock. The result is a handy platform for making rig adjustments with a 3' footprint, a fraction the size of the traditional cart—making it much easier to position close to set.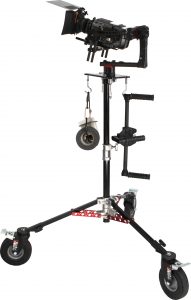 The wide-based Slider Stand comes with two rocky mountain legs for easy leveling on hills, mountainsides, rocky environments, stairs and other uneven terrain. Built for travel, it collapses to just 25"/64cm and comes with black anodized aerospace-design-inspired braces. With black chrome plating, it is at home on any set, especially when combined with the stealth black Dutti Dock. Constructed of 6061 T6 aircraft-grade aluminum, the docking sled offers a multitude of mounting options including 2 long cheese plate slots for adjustable plate balance position, 18 holes, along with four removable accessory hangers to support a fully loaded gimbal rig or camera setup.
The Docking System is available in three versions: The 99045 offers the Dutti Dock/Slider Stand, the 99046 adds a Matthews sturdy Caster Wheel set of 3, and the 99047 ships complete with the heavy-duty Rock n' Rollers wheel set with rigid safety locks—for extremely rough terrain locations.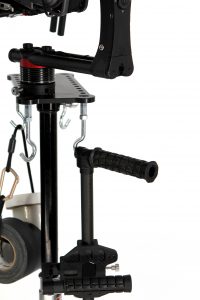 For more information on Matthews' full line of equipment stands and other studio grip gear, please visit www.msegrip.com
********
About Matthews Studio Equipment
MSE now has 50 years of success in the manufacturing industry—specializing in hardware, camera and lighting support. Its equipment is being used on entertainment productions and in major studios in over 90 countries around the world. The company has been honored with two Presidential "E" Award for outstanding contributions to growing U.S. exports, strengthening the economy and creating American jobs. Matthews has also been honored by the Academy of Motion Picture Arts and Sciences and the Academy of Television Arts and Sciences for Technical Achievement. MSE offices are located at their state-of-the-art manufacturing facility at 4520 West Valerio Street, Burbank, CA 91505. www.msegrip.com
********
For additional photos and other news, please go to www.aboutthegear.com
Information Prepared by Lewis Communications: [email protected]
Latest posts by Vika Safrigina
(see all)