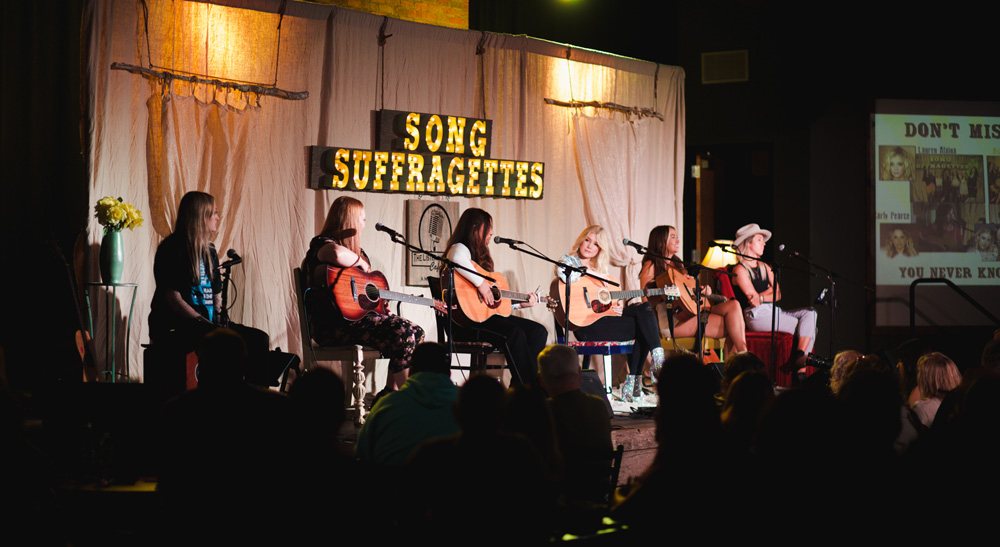 Fremont, CA – October 4th, 2022 – Blackmagic Design today announced that Song Suffragettes, an all-female country music singer/songwriter showcase in Nashville, TN, uses Blackmagic Pocket Cinema Camera 6K G2 digital film camera and ATEM Mini Pro live production switcher to live stream weekly concerts to its YouTube channel, which currently has 4.7 million overall views and counting.
Founded in 2014 by Nashville music executive Todd Cassetty, Song Suffragettes aims to fight systemic gender disparity in the music industry by increasing opportunities and airplay for female country singers. With a rotating group of performers, each live streamed show features five female songwriters with a cover performed at the end by all five women. Now in its ninth year, Song Suffragettes has seen more than 350 women grace its stage, with almost 60 going on to land publishing deals and 26 earning recording contracts. Its most notable alumni include Kelsea Ballerini, GAYLE, Carly Pearce, Lainey Wilson and Tenille Arts.
"Before building our Blackmagic workflow, we'd have to take the mixed format footage and painstakingly edit performances together after each show," said Cassetty. "Now with our Blackmagic gear, we can live stream in real time and record our live stream cuts. We have a full show edit available immediately and can quickly cut up individual performances and post them on YouTube and other social media channels."
Song Suffragettes uses a Pocket Cinema Camera 6K G2 and three Pocket Cinema Camera 6Ks, all of which are fed into an ATEM Mini Pro monitored by a Blackmagic Video Assist 7" 3G monitor/recorder. The livestream edit is recorded directly from the switcher to an external SSD as are the individual camera recordings. After each weekly live stream, the show is posted to the Song Suffragettes YouTube channel in its entirety. The team also chooses three or four standout songs after every show and posts those videos to YouTube from the individually recorded camera feeds.
"I chose the Pocket Cinema Camera 6Ks because I had heard so many good things about the quality of the footage capture," noted Cassetty. "I also like how you can record directly out of the camera in real time to an SSD. We recently added one of the Pocket Cinema Camera 6K G2s, and we love the adjustable touchscreen screen for easier framing of shots, as well as the level of control with onscreen focus and exposure tools. With the larger Super 35 sensor, the image quality is even better because of the shallower depth of field. If we ever add post production back into our workflow or want to explore the world of vlogging or filmmaking, the camera's capability to record gyro data from the internal motion sensor will be extremely helpful in stabilizing the footage. It's an impressive built in feature."
He continued, "We love that we can adjust the cameras' settings in real time using the ATEM Mini Pro which comes in handy because our stage lighting is not always as even as we'd like. In addition to using the 'gain' adjustment at some point during every show, we also take full advantage of being able to add graphics into our live stream in real time using macros."
Cassetty concluded, "YouTube is an important platform for our brand, and we post hundreds of singer/songwriter performances on our channel. Building out a Blackmagic-based workflow for Song Suffragettes was one of the best decisions we've ever made."
Press Photography
Product photos of Pocket Cinema Camera 6K G2, ATEM Mini Pro, Pocket Cinema Camera 6K, Video Assist 7" 3G and all other Blackmagic Design products are available at www.blackmagicdesign.com/media/images
About Blackmagic Design
Blackmagic Design creates the world's highest quality video editing products, digital film cameras, color correctors, video converters, video monitoring, routers, live production switchers, disk recorders, waveform monitors and real time film scanners for the feature film, post production and television broadcast industries. Blackmagic Design's DeckLink capture cards launched a revolution in quality and affordability in post production, while the company's Emmy™ award winning DaVinci color correction products have dominated the television and film industry since 1984. Blackmagic Design continues ground breaking innovations including 6G-SDI and 12G-SDI products and stereoscopic 3D and Ultra HD workflows. Founded by world leading post production editors and engineers, Blackmagic Design has offices in the USA, UK, Japan, Singapore and Australia. For more information, please go to www.blackmagicdesign.com
Latest posts by Grithaus Agency
(see all)