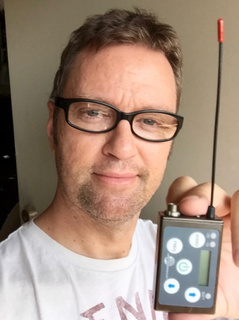 Rio Rancho, NM(September 07, 2016) – The team of Fanatics at Lectrosonics has selected sound mixer Johnny Karlsson's entry as winner of its "Sound of the Fanatics" contest, in which participants worldwide were invited to submit a soundtrack or sound effect to accompany Lectrosonics animated logo to be used for the company's video tutorials and online content. Karlsson has received a Lectrosonics SSM micro bodypack transmitter as the grand prize for having his soundtrack chosen.
For Karlsson, creating the logo's sound was a fun project that reminded him of his industry beginnings as a composer and sound designer for games and commercials. Since 2010, Karlsson has been working less in the studio, and more as a location sound recordist and mixer. He was sound recordist for all 39 episodes of Fuel TV's Action Sports Plus, and was sound mixer for multiple episodes of Comedy Central's diotsitter and HGTV's Selling L.A., as well as short films including Funny or Die'sCops: Ferguson.
In his early career, Karlsson first encountered Lectrosonics when shadowing industry veterans on set to learn his craft. The pros recommended that he invest in the same for his own gear, which was a little challenging on his limited budget starting out. As he explains, "I know that sometimes when guys start out they go with a less expensive option, but I found a way to get some Lectrosonics gear, and I'm so glad I did. To this day, I'm a fan of Lectrosonics products. I'm very happy with them for sound, reliability, and range."
Karlsson put his SSM prize to work right away in what proved to be a great application for its small size: capturing sound for a children's toy commercial. Of his experience with it he says, "The SSM is one fantastic little thing! It's very small. I knew that it was going to be small from the name, and the pictures, but when you actually hold it in your hand, it's very impressive. I'm a happy Lectro user!"
"There were dozens of great entries for the contest, and it was difficult to choose the 'best'" says Karl Winkler, vice president of sales & service at Lectrosonics. "However, we picked Karlsson's entry after many listenings and many debates. We came to feel that this soundtrack really embodies the spirit of what our brand stands for: it is musical, sounds interesting, and has an emotional component. We're so pleased to have Karlsson's entry become our official logo soundtrack."
To see Karlsson's winning soundtrack entry for the company's animated logo, check out the latest video on the Lectrosonics YouTube channel:RF Spectrum Scanning with Lectrosonics LR Portable Wireless Mic Receiver.
About Lectrosonics
Well respected within the film, broadcast, and theatre technical communities since 1971, Lectrosonics wireless microphone systems and audio processing products are used daily in mission-critical applications by audio engineers familiar with the company's dedication to quality, customer service, and innovation. Lectrosonics is a US manufacturer based in Rio Rancho, New Mexico. Visit the company online at www.lectrosonics.com.
Latest posts by msmediainc
(see all)