The content a broadcaster creates is determined not only by the focus of the content. It is also determined by the visual presentation. How well a creative working in the broadcast industry reaches and potentially builds an audience, is determined by how well presented their brand is, which is why monitoring it is essential. SuiteLife Systems is well known for providing all sectors of the broadcast industry with streamlined Advanced Automation System Solutions. In fact, their newest Broadcast Monitoring & Management Platform, the GPX-32 Pro, is a tool broadcasters need to improve the management of their content. 
About SuiteLife Systems
For over 20 years, SuiteLife Systems has worked with leading technology companies in the distribution of award-winning Axess software products that are specifically designed for monitoring, control, and the management of facilities and network remote sites. SuiteLife Systems' Solutions include studio/infrastructure, smart/green building management ("BMS"), RF/transmission/microwave, and power management systems, which are designed for the broadcast and telecommunication industries. The company also provides software development, IT consulting, and 24/7 support.
SuiteLife Systems' SLS integrated software approach is focused on scalability, flexibility, usability, and maintainability. The software offers TV and Radio Broadcasters a comprehensive range of monitoring and control solutions with impeccable adaptability. This ranges from the simple monitoring of a single remote site to a NOC solution controlling hundreds of sites, monitoring thousands of disparate data points, SLS supplies proven, buy-it-once solutions that will Manage, Monitor, and Control a broadcaster's world for decades, not simply months. And now, with their new GPX-32 Pro Broadcast Monitoring & Management Platform, broadcasters will have an even easier time managing their content.
SuiteLife Systems GPX-32 Pro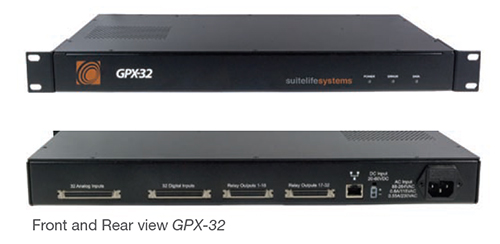 What makes the GPX-32 a monumental platform for Broadcasters, is that it is a universal interface specifically designed to support 32 parallel channels of analog, status (via opto-isolated), and control (via relay contacts) per unit. This Pro Broadcast Monitoring & Management Platform translates the General Purpose Input and Output ("GPI/GPO") channels into TCP/Ethernet data streams for processing using the Axess software.
A single Axess system can deploy any number of GPX-32 units, which allows for almost unlimited GPIO expandability. The GPX-32 is connected via Ethernet, and this means that it can be installed either locally or remotely to the host Axess system for flexible deployment.
Because The GPX-32 is a "passive" device, information relays come from devices such as temperature sensors, door alarms, and light switches. Also included within the GPX-32 are built-in temperature/humidity, mains, and DC voltage monitoring with both 110/240AC and 20-60VDC operation.
The GPX-32 has a Punch Down Panel (PDP), which is used to facilitate the connection of passive peripheral equipment to the platform's interface. The unit consists of 4 cables, 2 x SCSI 50pin, and 2 x SCSI 68pin, which interconnect between the GPX-32 and the wiring interface. The Punch Down Panel has PCB mounted 110 blocks, SCSI connectors, and jumpers. The PCB is mounted on a 2RU metal frame to allow for easy mounting in a standard 19″ EIA rack.
Additional features of the GPX-32include:
An on-board processor with SLSWebControls responsive remote monitoring app with detailed programmable status, control, and metering
A builtin SNMP management of local site equipment
Ping monitoring of network devices
Alarm/Event notification via SNMP traps, email and RESTful API
Automation of fail-overs, reports, and fault management
Full compatibility with existing SLSControls Axess Management Systems
For more information on the GPX-32, visit www.suitelifesystems.com/gpx-32/.
SuiteLife Systems And Broadcasting
What makes the broadcast industry unique is found not only in the diversity of creatives and the content within it. But the foundation is built and grown from a need for progression. The same can be said for the work of a company like SuiteLife Systems, and how it has successfully implemented  Advanced Automation System Solutions that have helped the broadcast industry to evolve. The GPX-32 Broadcast Monitoring & Management Platform is a prime example of how much more efficient the process of content management is becoming for content creators, especially when new and refreshing content is always on demand. Having a device that allows for broadcast professionals to better manage, monitor, and control their content doesn't just simplify the process of organizing it, but it also improves their chances of building a bigger and more expansive audience.

For more information about SuiteLife Systems, visit www.suitelifesystems.com/.
AlertMe
Latest posts by Broadcast Beat Magazine
(see all)