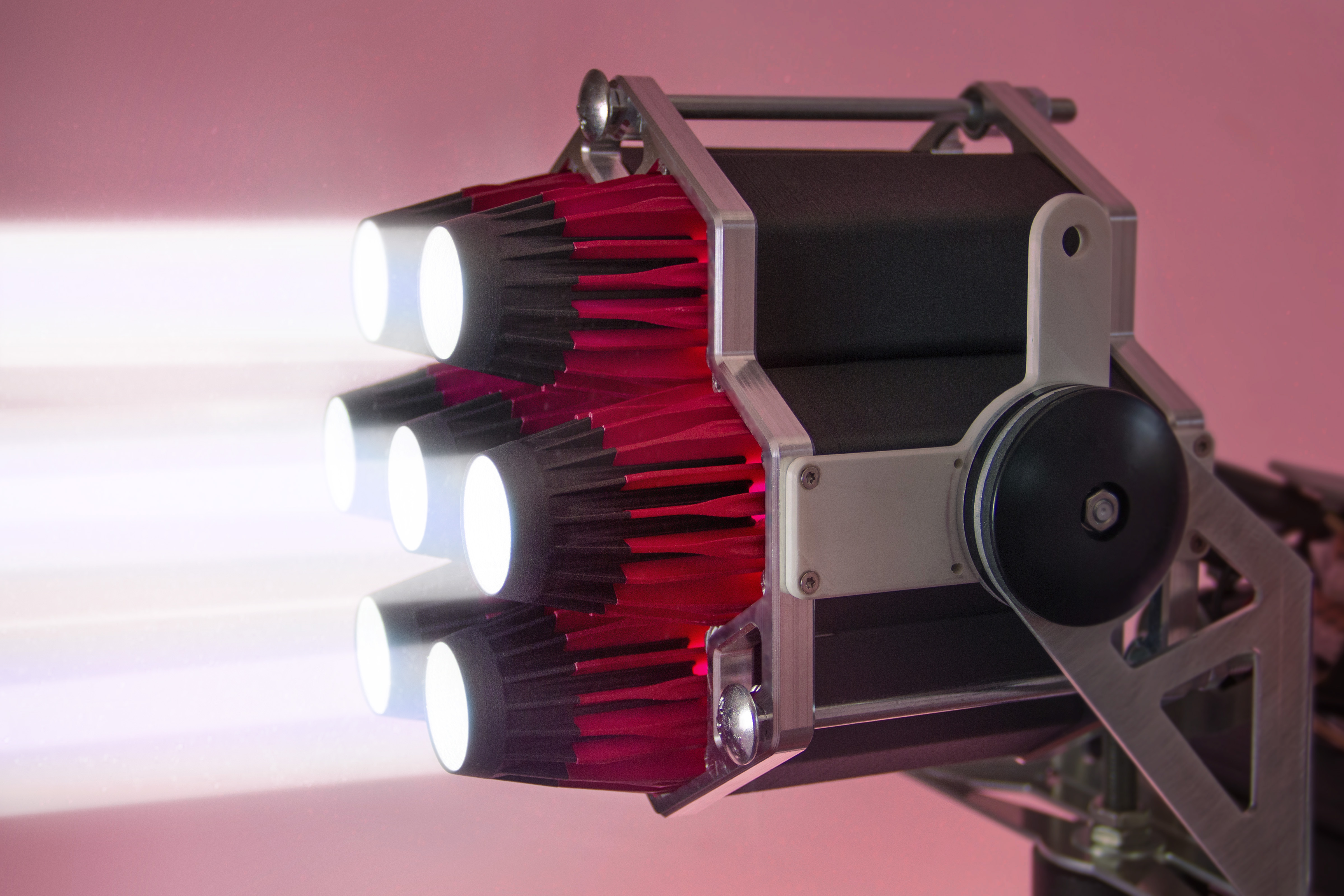 SUMOLIGHT
www.sumolight.com
Made for Film & Broadcast, Live Events, Architecture and more
Berlin, Germany—June1, 2022: SUMOLIGHT, makers of SUMOSPACE+™, SUMOSKY™ and new SUMOMAX™ introduce an entirely new concept in professional lighting—SUMOLASER. Based on a new class of laser emitters, SUMOLASER™ is a daylight point-source of unparalleled luminance that can put a precision beam of light on a stage or project miles into the sky. At just 10.8 lbs/4.9kg this new powerhouse rivals the output of traditional 18kW HMI daylight sources weighing more than ten times as much.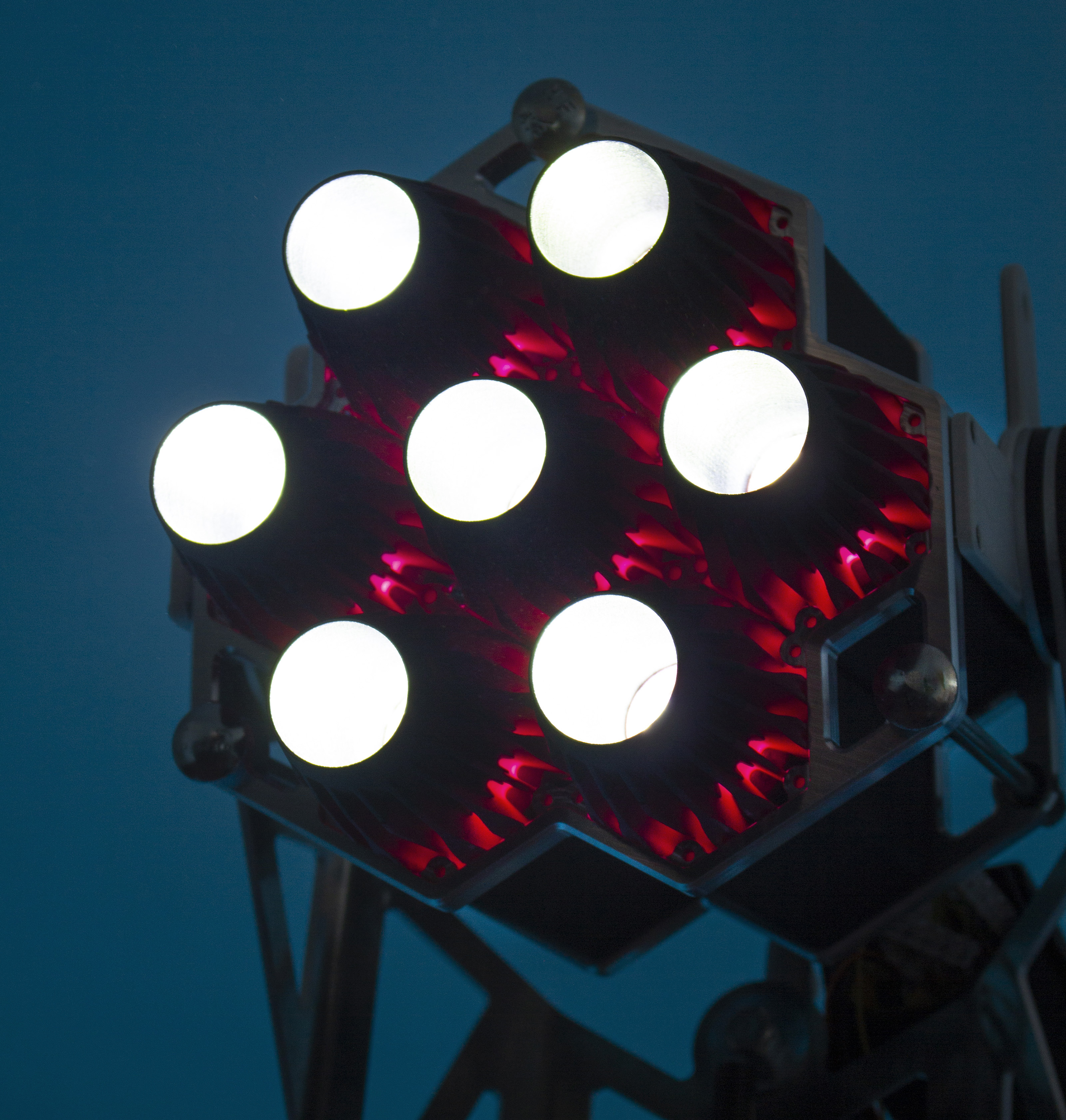 As with all SUMOLIGHT fixtures, SUMOLASER is fully modular, with individual units in a convenient hexagonal from factor. While each fixture may be controlled individually via DMX or local touchscreen, they can also be built into custom combination patterns. The unique SUMOSNAP™ one-click quick-release connecting system effectively allows multiple fixtures to safely and easily combine into powerful arrays. It provides a secure screw-free interface to truss systems, standard junior pins and other grip hardware.
Each SUMOLASER includes a 7-engine laser module producing 3-degree beam angles which unite to form a tight beam homogenized beam. As more units are added with SUMOSNAP™ adapters, the beam width increases but the angle remains the same – allowing greater output and a fuller, fatter pencil beam.
With a 6000°K color temperature, this one-of-a-kind source draws just 175W of power. What's more SUMOLASER outputs 150,000 lux / 45,700 footcandles measured at 328-ft/100m. Amazingly compact, the laser module is 8.03×7.65×7.56″ / 204x194x192mm (HxWxL), and the Yoke-Mount and Control Box, spigot, 7-engine module together measure 18.9×11.42×12.6″ (HxWxL) / 480x290x320mm. The front face of the module is 7.65″/194mm.
SUMOLASER is IP65 rated for maximum safety compliancy regardless of conditions so it is safe for indoor or outdoor use. For more information, contact [email protected] or www.sumolight.com
###
About SUMOLIGHT
SUMOLIGHT is a growing, global manufacturer and provider of lighting production equipment and engineering support made in Germany. Specializing in lighting for film and broadcasting, SUMOLIGHT was founded in 2011, with the SUMO100+, followed by the original award-winning SUMOSPACE in 2015, the popular SUMOSPACE+ in 2020 and the new category defining SUMOSKY display and lighting system to integrate into mixed reality studio environments. The new full-color, modular SUMOMAX is the company's statement on powerful interactive lighting. Building on the requests of end-users– from rigging, to control, to output, to movement, to color — SUMOLIGHT has continued to answer their needs. In high demand, SUMOLIGHT LED fixtures are chosen by gaffers, DoP's, and more for production across the globe. SUMOLIGHT has facilities in Berlin, Los Angeles and London.
Information Prepared by Lewis Communications: [email protected]
Latest posts by Vika Safrigina
(see all)