Teradek
www.teradek.com
Effective: Immediately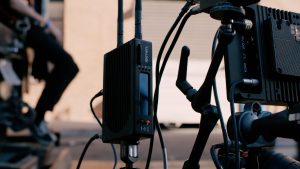 Irvine, California — Creative Solutions announces that Teradek has partnered with Frame.io to support Frame.io C2C (Camera to Cloud), a cloud-based workflow that bridges on-set camera capture with post-production NLE systems. This revolutionary process is poised to forever transform the way in which production and editorial interact.
At launch, the Teradek Cube 655 video encoder will be the only device capable of capturing color-accurate proxy files directly from camera video feeds and uploading them into the Frame.io cloud system via WiFi, LTE, or 5G.
"Teradek and Frame.io engineers have been working together to integrate the two platforms and achieve seamless handover from the camera to the cloud," explains Creative Solutions CEO Nicol Verheem of their collaboration with Frame.io. "You just hit 'Record' on the camera, and when you hit 'Stop' the file shows up in the cloud."
When connected with a C2C-compatible camera such as RED, ARRI, and Sony, Cube 655 utilizes the camera's Record Trigger to capture and store color-accurate H.264 (AVC) proxies in manageable file sizes, which exactly match the filename and timecode of the massive original camera files. When stop-record is triggered at the end of a take, Frame.io will automatically upload Cube 655's proxy file into their cloud storage system via proprietary link over WiFi or compatible cellular modem–such as the Teradek Node LTE Modem.
As proxies are uploaded into the cloud at a continuous rate, post production can generate dailies and editors can begin work on the NLE timeline just moments after the director yells 'Cut!' on set, from anywhere in the world. Because the recorded proxies are stored locally on Cube 655, productions are able to upload their proxies later, or continue downloads from the hotel room on a distant location.
"Teradek has been working with Frame.io for years to innovate new solutions and simplify collaboration in filmmaking," notes Greg Smokler, VP of Cine Products at Creative Solutions. "This new ability to instantaneously upload proxies—from nearly any location—allows us to finally bridge the gap between production and post."
Teradek + Frame.io C2C workflow compatibility will be available as of March 2021.
For more information, please visit tdek.co/frameio-c2c
Pricing & Product Highlights
Teradek Cube 655 Video Encoder  —  $1,990.00
Real-time H.264 (AVC) encoder
Dual-band 2.4/5.8 GHz WiFi, ethernet and USB interfaces
HDMI and SDI video inputs
On-board SD card recording
2-pin connector power input
Core, Vuer, and Frame.io compatible
Teradek Node LTE Modem  —  $699.00
High-powered 3G / 4G / LTE modem
Universal SIM compatibility
Locking 4-pin connector & USB output
External high-gain antennas
Durable, weather-resistant aluminum chassis
For additional inquiries, please reach out to [email protected]
About Teradek
Teradek designs and manufactures high-performance video solutions for broadcast, cinema, and general imaging applications. From wireless monitoring, color correction, and lens control to live streaming, SaaS solutions, and IP video distribution, Teradek technology is used around the world by professionals and enthusiasts alike to capture and share compelling content. www.teradek.com
About Creative Solutions
Headquartered in Southern California, USA, Creative Solutions (CS) designs and manufactures premium imaging and support products for film and broadcast production, independent content creation, and other media enterprises. Comprising the brands Teradek, SmallHD, and Wooden Camera, CS products are used around the world in cinema, television, sports, news, live events, and online streaming. CS has manufacturing and R&D centers in the US and Israel, with product availability via branded websites and global retail partners. www.cs.inc